For the Daily Commute
With climate change and environmental concerns becoming an evermore serious issue, people are looking for innovative solutions as to how they reduce contact and their personal carbon footprint. Our boards have proven to be an exciting and eco-friendly alternative for our customers who were previously confined to the daily commute using petrol powered vehicles. For many e-skateboarders however, solely using an enSkate board to travel the daily commute just isn't possible, whether that be due to the distance between work and home, unsafe high-speed roads, or simply that there is nowhere to store the board once at your destination. The alternative is public transport, however this can bring difficulties often in the last mile of the journey that a bus or train does not cover. The Woboard Mini is our new board, designed specifically with portability and convenience in mind without compromising efficiency or design. Unlike a larger enSkate model, bikes, or an e-scooter, the Woboard Mini is the perfect travel companion to take on the daily commute. This board can easily be carried onto a bus or train without proving a hindrance to other passengers, and after riding the rest of the journey to work or university campus, can simply be stored under the desk, in a locker, or simply held beside you during lectures. The Woboard Mini is also our first e-skateboard model that can qualify as carry-on luggage given the size and dimensions, meaning it no longer needs to be a hassle to travel with you board, wherever you want to ride.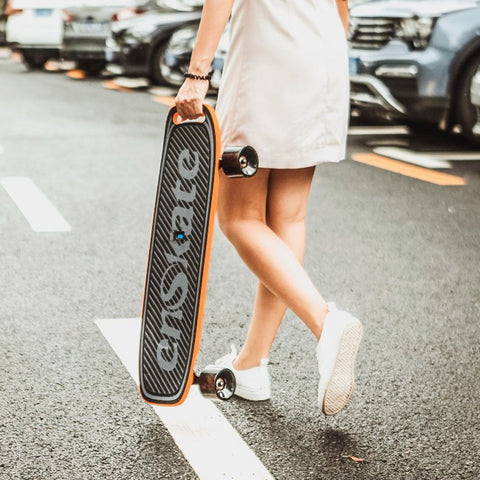 A Great Introduction for Beginners & Amateur 
We all have to start somewhere, and the Woboard Mini can be a great introduction to e-skateboarding for the younger rider, or indeed any amateur. When being of a smaller than the average stature, a wider, longer deck can be much more difficult to maneuver. The weight of the rider can also become an issue when not enough pressure can be learnt onto the trucks to make sharp turns. In this sense, any aspiring young riding will find the Woboard Mini as a great starting platform to practice on. For any amateur rider that considers riding on a Woboard S an intimidating prospect due to its power and capabilities, the Woboard Mini can feel like a reassuring and forgiving entry to the world of e-skateboarding.
Power and Mileage
Our battery and motor combination is leading the e-skateboard market at its price point. The Woboard Mini brutalizes a Samsung 18650 Lithium Ion Battery pack, renowned for its performance and reliability. Rated at 90 watts [36v], the direct drive motor can propel the Woboard Mini to a top-speed of 12mph [16km/h] and comfortably climb a 15% gradient hill, all whilst retaining a range of 7.8 miles [12 km]. BMS leading battery management system allows the Woboard Mini to be fully charged within just 2 hours. Designed with all possible road conditions during daily trips in mind, the Woboard Mini is equipped with 75mm diameter wheels that can easily cope with different road surfaces.  
Compactness and Portability
The Woboard Mini dimensions [700mm x 240mm x 140mm] make it one of the most portable and compact models in the e-skateboard market. The board design includes an incorporated handle in the kicktail making it feel natural and comfortable to carry over longer distances and in crowds. Weighing in at only 4.8kg, the Woboard can be carried with ease and convenience, adding to the board's overall portability.  
Construction
Constructed using nine layers of Canadian maple through using a cold-press molding technique, the Woboard Mini matches the production processes and standards of all high-quality professional skateboard decks. When combined with our trucks composed of an aluminium-magnesium alloy, the lightweight Woboard Mini retains all of the durability and resilience that enSkate is renowned for. Our battery packs are enclosed in a sealed impact-resistant casing that has been stress tested to ensure the highest level of protection and prevention from dust. Overall, our rigorous testing and customer service ensures that you'll be riding with the utmost confidence.  
Design
When shaping the Woboard, our engineers took elements and inspiration from each generation of skateboard design. The Woboard's deck is shaped with a gentle double kicktail and light concave to achieve a modern, aerodynamic look without sacrificing usability. The Woboard Mini is available in a contrasting black and orange colorway, or a more subdued, stealth inspiring all-black colourway. Each colorway focuses on accentuating the fundamental design of the Woboard Mini, letting the sheer quality of our engineering speak for itself.

Now we are having Summer Flash Deal, you can get the fantastic Woboard Mini at $299 by using code: MINI90. Get it when it is still available.